Some Interesting Facts about Indian Pichwai Paintings
Pichwai paintings have become more prominent nowadays. Without sacrificing its traditional elements, the artist behind the online gift store in Kolkata has modernized Pichwai to make it notable. Pichwais were historically large since they were hanging behind the God, but as time went on, their size began to shrink. The colors are no longer entirely organic, either. Artists increasingly use synthetic colors or a combination of synthetic and natural colors due to time and financial restraints as well as the lack of natural dyes. As an alternative to cotton cloth, paper is employed. Now, a Pichwai belongs anywhere because of its splendor and beauty. Pichwais like this Indian Pichwai Cow Painting is no longer only used in temples; they are now often hung on house walls and other surfaces. Therefore, buy paintings online in Kolkata from The Gallery Store. In this blog, we will study some interesting facts about Indian Pichwai paintings.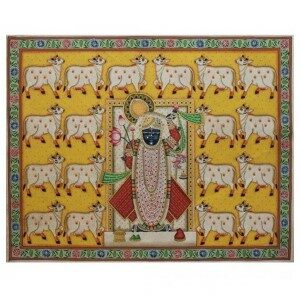 Traditional Indian art like this Indian pichwai painting is frequently made with meticulous detail, vivid colours, and elaborate motifs. The complex designs and vivid colors of these paintings, which have been around for millennia, have made them quite popular in recent years. But the fact that even the smallest details and mistakes are obvious in these pichwai artworks from the Best Online Gift Store in Kolkata is what makes them so exceptional.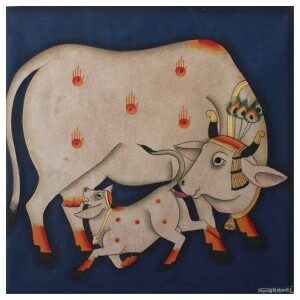 This implies that the authors of these works of art must adopt a specific sitting position and posture when working on a painting. This is because any minor flaws can be immediately seen because Pichwai artworks like this Indian Pichwai painting of a cow and calf are created with exceedingly fine brush strokes and rich detailing. Through their distinctive style, these paintings provide a window into the daily lives of the locals while capturing the essence of Rajasthani culture. Because of the dedication and passion of the Pichwai painters, we have been given a glimpse into a vanished style of art, and this will be respected for many years to come.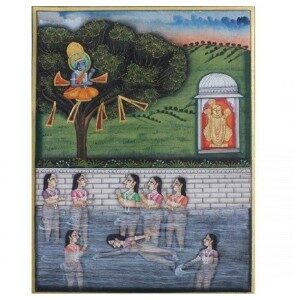 To sum up, we can say that the Indian pichwai painting of The Gallery Store, which captures the splendour and grandeur of our country, is a magnificent representation of Indian art and culture. These brilliant, colourful works of art, a major aspect of Indian heritage, are sold by an online gift store in Kolkata and bring to life deities, scenes from daily life, and religious elements.