What are the different uses of dining serving trays?
Serving trays may be designed in a wide variety of ways and are quite adaptable to your
home's décor.
Despite being termed serving trays, they serve much more than just food and drinks.
About Serving Trays
Whether it is a holiday or not, entertaining is a significant aspect of contemporary Indian society.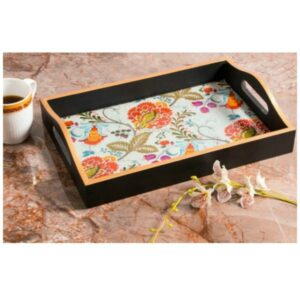 Serving trays like this
handcrafted serving tray in sweet floral Spanish
from the
Best Online Gift Store in Kolkata
is a must for every table arrangement.
Nowadays, hosting a house party has become common. Stylish serving dishes, especially those that are adaptable and have various uses, should be added to the list of things that are a must-have.
If you've been debating purchasing a serving
tray
, take into account these applications in your home:
A coffee table serving tray is a practical way to organize many tiny goods.
Depending on the aesthetic you want, this kind of serving dish may be fashioned in a variety of ways.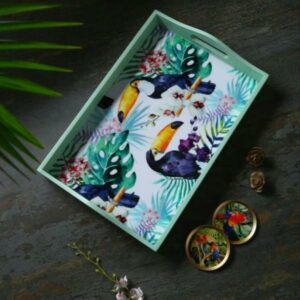 A serving tray like this
handcrafted serving tray with a decal macaw print
on a coffee table, for instance, may merely have a candle and six coasters to guard the table's surface.
However, compared to if the things were merely thrown on the table, the tray makes the table appear more organized and put together.
Your dining room table will look nicer, and you can keep things close at hand for meals and special occasions by setting a tray on the table.
To add flair to the table, you may deftly arrange candles, flowers, salt and pepper shakers, and other
home decor items online
in
Kolkata
from
The Gallery Store
.
Furthermore, moving these products when you need to clean up is made much simpler by the serving tray.
Consider putting your essential bar equipment on a serving tray rather than locking it away in a cupboard.
It gives your room a feeling of flair and refinement.
For instance, you may place a silver tray with a water pitcher, martini shaker, decanter, and a couple of shot glasses on it.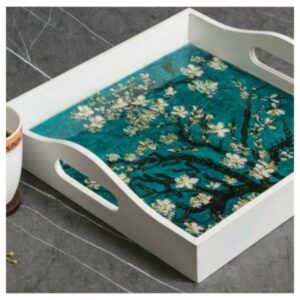 The best way to keep frequently used goods accessible and together in your kitchen is on this
handcrafted serving square tray with white blossom.
Why not put the salt and pepper on a plate together, as they are needed with other often-used items like oil and garlic?
Additionally, it is a nice location to put herb pots close at hand.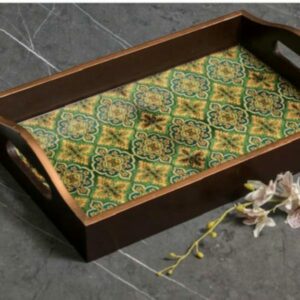 In the bedroom, a tray like this
handcrafted serving tray with a royal damask print
works great for holding almost everything.
To keep your room appearing neat and organized, you may place items on trays such as flowers, candles, lights, fragrances, photos, and jewelry.
Tips to make your table settings stand out
Of course, the final setup is essential to serving with elegance. The following advice can help you make your table arrangements stand out:
You can go for multi-layer serving platters to make your look more aesthetic. These platters are quite popular nowadays.
Table napkins and tissue holders from an
online gift store in Kolkata
are necessary items that may also add flair.
Choose serving utensils that are both attractive and useful. Choose serving platters and trays that go with the concept of your table setting.
Mix and match or use coordinated sets
A well-coordinated serve-ware setup boosts the table setting's aesthetic factor.
Choose colored ceramic serving utensils in a variety of forms to add a playful touch to a modern design.
Add bold accents to your table arrangements to make them stand out
Vases, flowers, candles, and centerpieces by the
Best Online Gift Store in Kolkata
with a theme are wonderful ways to add some beauty to your table settings.
Make a good choice and pick a piece that complements the design of your table.
Conclusion 
As you can see, a serving tray has a lot more applications in your house than just a meal service.
Therefore, purchase a few serving trays from the
Best Online Gift Store in Kolkata
immediately and utilize them in your home's busiest areas with a distinctive approach.