Make a variety of bread using an upper-crust ceramic loaf pan!
Your loaf may not rise as tall as you'd like if your loaf pan is too large. Your pan may overflow if it is too small. Discover this blog to learn how to select the ideal pan, like this Upper Crust Ceramic Loaf Pan from the Best Online Gift Store in Kolkata, for the bread you're baking and how to successfully substitute other pans.
Which Bread Varieties Can Be Baked in a Loaf Pan?
Brioche, babkas, fast bread like zucchini bread and banana bread, and sandwich bread like pain de mie all require loaf pans. But you can bake other things in a loaf pan besides bread. These adaptable rectangular pans from Online Dining Accessories in Kolkata work well for both savory dishes like lasagna and sweet desserts like pound cake.
Using your creativity, a spoon, and a bowl, you can bake anything from brownies to bread. The variety of tools that a baker can assemble is virtually endless. You may save a lot of time and money by learning how to choose the best baking utensils at an Online Gift Store In Kolkata.
How to Pick the Correct Bread Loaf Pan Size?
The ideal pan size will often be specified in your recipe. However, there are a couple of options if your recipe doesn't include this information or if you'd like to use a different size of the pan.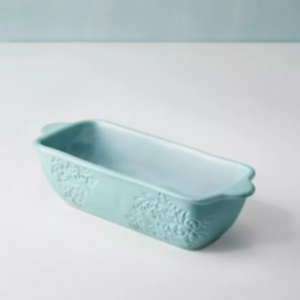 1. The volume of the pan:
Filling a pan with water and then gently pouring the water into a big liquid measuring cup will quickly reveal the volume of the pan. 
2. Calculate the batter volume:
You may easily pour fast bread batter into a big liquid measuring cup to calculate its volume. You'll have to wing it with yeasted loaves. For the majority of bread, the batter should reach two-thirds of the way up the pan's side.
3. Use a guide for pan sizing:
To compare typical pan volumes and decide which is ideal for your recipe, use a pan size chart.
Want to purchase this upper-crust ceramic loaf pan? Contact KCC Gallery Store.
Conclusion
Remember that a little change in size might result in a substantial difference in volume when selecting and switching pans. The easiest technique to check a pan's true capacity is to fill it with water, which you should then pour into a liquid measuring cup. Just go to an Online Gift Store In Kolkata, and you will get a variety of options.