Elevate Your Home Entertainment with Three-Tier and Bar Trolleys
Function and beauty go hand in hand in the field of interior design and home décor. The three-tier trolley and the bar trolley from an online gift store in Kolkata
are the adaptable pieces of furniture that represent both of these characteristics. These chic and useful additions to your living area may be used for a variety of things, like pouring cocktails and presenting your favorite decorative objects.
We'll dig into the world of three-tier and bar trolleys in this blog, learning about their design options and the countless possibilities they open up for your house.
Design Variations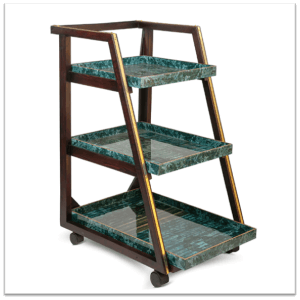 Three-tier trolleys are available at the Best Online Gift Store in Kolkata in a variety of styles and materials to match any home decor. Here are some prevalent design iterations:
Vintage Charm: Vintage-style trolleys like this Antique Motif Three-Tier Trolley with amazing finishes and art offer a sense of old-world grandeur for individuals who enjoy nostalgia.
Modern Minimalist: A modern bar trolley is characterized by its clean lines, smooth metal frames, and neutral hues.
Rustic Beauty: Reclaimed wood or wooden trolleys with a distressed finish give your home a rustic appeal.
Applied Uses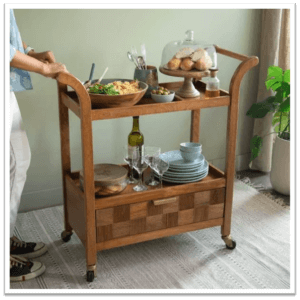 Three-tier trolleys are a must in every home because of their versatility. Here are some useful applications for these versatile items:
Cocktail Time: Bar trolleys like this Bruno Bar Trolley are ideal for setting up a home bar, as their name indicates. You may prepare them by stocking them with your preferred liqueurs, mixers, glasses, and garnishes, and you'll be all set to impress visitors with creatively made cocktails.
Station for Coffee and Tea: Convert your cart into a welcoming coffee or tea station. Make your morning ritual a breeze by keeping your coffee machine, cups, choice of teas, and accessories properly arranged.
Shelves for Display: Three-tier trolleys by an online gift store in Kolkata make chic shelves for displaying your prized décor pieces, books, or potted plants.
Final Thoughts
To sum up, we can say that a functional and fashionable addition to any house is these three-tier trolleys and the bar trolleys. These trolleys by the Best Online Gift Store in Kolkata may enhance your home entertainment and create a statement in your living area, whether you're a cocktail enthusiast, a décor fan, or just seeking a practical piece of furniture.
Therefore, if you are seeking to buy them for your house, then explore the KCC Gallery Store now.