Reasons to Choose Paper Napkins from the Best Online Gift Store in Kolkata
Paper napkins are quite easy to use and widely accessible everywhere you go. Paper napkins are occasionally used in the kitchen to keep your hands neat and clean, to keep them dry, and to wipe up minor spills. When dining outside, in restaurants, or at home, paper napkins are also used. They might be used to dry hands after washing in restrooms and rest areas. In the bathroom or kitchen, they are undoubtedly the simplest method to quickly dry your hands or remove dirt from them. What sort of napkins you purchase from the online gift store in Kolkata will also depend on what you want to use them for. Choose harder, fold-proof ones if you want to keep them on your table, but also soft ones that won't scratch or irritate your skin. If you don't want to fold the napkins, you can use lighter ones or this set of 20 Teatime paper napkins.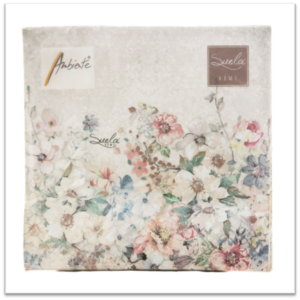 Depending on the situation and the specific use of paper napkins, choosing a good paper napkin is important. Avoid matching the hue of the tablecloths with the paper napkins. The tablecloths' primary color should be contrasted with attractive motifs on the napkins or floral-printed napkins like this set of 20 Rosa paper napkins. To distinguish the napkins from the table setting, this is required. Paper napkins come in a variety of patterns, including floral prints, checks, and polka dots, all in charming pastel colors. Just visit the best online gift store in Kolkata.
In this blog, we will examine the reasons to choose paper napkins from the best online gift store in Kolkata, so go through it carefully.
Paper napkins are affordable compared to other types of napkins.
Paper napkins are genuinely inexpensive, and they unquestionably cost less than linen napkins. Paper napkins are also disposable, saving you money on laundering. And therefore it can be said they are eco-friendly to use.
Paper napkins are easily available in any shop and any

online gift store in Kolkata.
They are widely accessible and offered in a variety of styles, colors, qualities, and sizes. They are widely accessible everywhere or online, including at The Gallery Store. You might easily purchase online home decor items in Kolkata.
Paper napkins are always fresh and come in different styles, like this

set of 20 Sunny Spring Paper Napkins.

You are not required to use cotton napkins that have been previously used and cleaned. Paper napkins allow you to use a clean, new one each time you need one. This eliminates infections and improves general hygiene.
      4. Paper Napkins are eco-friendly.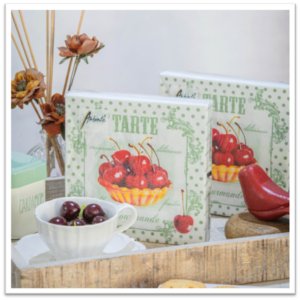 As we all know, using environmentally friendly products has become very important nowadays to save nature. And people are understanding this and using many initiatives for it. People are switching to electric cars, solar panels, and natural cleaning products, finding that some materials are more harmful than helpful for the environment. However, not all of the materials we use are damaging the planet as much as we may think! Well, one such alternative is to go for paper napkins like this set of 20 Tarte Red Cherries Tea paper napkins that are recyclable and do not harm the environment.
You will help the environment become healthier. Since there is a climate emergency, even the smallest efforts matter more than before. You will be employing a sustainable and eco-friendly option by using ecological paper napkins. Additionally, you will cut down on trash generated by your house.
All the benefits of paper napkins are present in biodegradable napkins made of recycled paper. They offer a hygienic, practical, and beneficial solution. Because it's disposable, you won't have to share it with several guests, fully eliminating any chance of bacterial contact. Additionally, you won't need to worry about folding them, and you may skip the washing service. They'll make life a lot simpler for you every day!
Therefore, it can be concluded that paper napkins should be chosen to match the party or event's theme, décor, and venue. Visit The Gallery Store, an online gift store in Kolkata, if you're wondering where to buy paper napkins. With a large selection of biodegradable napkins available in different sizes, colors, designs, and shapes to suit any home, kitchen, bar, restaurant, and more.