Enjoy this monsoon with rainy-day mugs from The Gallery Store
Imagine you are having a cup of coffee in these rainy-day mugs and enjoying the monsoon.
This is the type of pleasure that everybody desires during the rainy season.
You may adjust your home's decor from the Best Online Gift Store in Kolkata with a light touch to create the ideal atmosphere for your preferred monsoon pastime.
Amazing ways you can enjoy this monsoon
Below is how you can enjoy your monsoon. Have a look at them:
Sit beside a window.
You're sitting by your bedroom window as it's raining outside. Your beloved book is in your hand, and you are covered in a cozy blanket.
You close your eyes and take in the soothing sound of raindrops hitting the ground.
From the kitchen, savory aromas of freshly fried pakoras are entering the room.
As you patiently wait for your mother to bring the hot pakoras over, you sip on your hot beverage.
Could there possibly be a better way to pass a rainy day?
Have a tea party.
On a lovely rainy afternoon, do you intend to sip on everyone's favorite beverage? Perfect. Choose your location first.
A covered outdoor area may completely alter the situation.
Your verandah or any other cozy area that provides you with a wonderful monsoon view would work great.
Your choice of cheerful décor from an Online Gift Store in Kolkata that creates the ideal mood for a rainy day is more wonderful than a vibrant rug.
You may include plants to enhance the appearance and natural carpets to highlight the earthy mood.
Steal moments of solitude.
Why not take some time for yourselves?
Do anything you truly want to and give yourself a break.
Binge-watch your favorite series, write down your thoughts in a notebook, read that overdue book while listening to your favorite music, or even paint your mood on canvas.
While you may also Buy Paintings Online in Kolkata from The Gallery Store.
Request a coffee or cookie buddy.
Rainy weather also calls for a "heart-to-heart" conversation with your "bestie."
Simply arrange two bean bags and a coffee table on a peaceful rug, cup your hands over the coffee mug and the mind will begin to speak through it.
You can start communicating without the aid of a therapist! Pour out the long-kept secrets while getting wet in the raindrop shower.
Another excellent approach to improving the appearance of a coffee table is with a circular rug.
Popcorn and a movie.
Have you picked a favorite movie? So let's spread shag, a comfortable couch, and some throw pillows in your TV area.
To prevent obstacles, maintain a supply of food and drinks close at hand.
These days, low seating configurations, or floor seats, are also popular.
A cozy hand-tufted rug would look fantastic with this type of seating.
Go for a long drive.
You can either go it alone or get your loved ones together and take a long trip.
When it rains, everything looks gorgeous, and you can enjoy the scenery while rocking to your favorite music inside your car.
If you don't mind getting a bit wet and want to embrace your wild side, you can even ride your bike while taking in the wind and rain.
Why Choose The Gallery Store?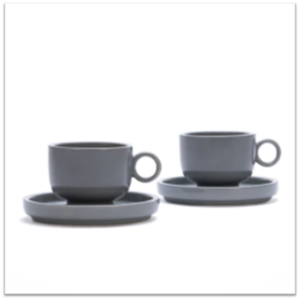 At The Gallery Store, you can find a lot of collections of Online Home Decor Items in Kolkata.
We handpick a diverse selection of décor, ranging from kitchen necessities and drinkware to teacups, bathroom décor, and home furnishings.
You may pick from a variety of collections for each product category, like this set of two Rainy Day mugs.
The nicest thing about us is that buying from our website is quite simple, and we offer efficient delivery.
Conclusion
To improve your mood on that calming rainy day, you may add a few more components like plants, scents, paintings, or other works of art like Buying Paintings Online in Kolkata.
The goal is to design an environment that, when it rains, makes your heart sing.
For every type of home and climate, The Gallery Store offers a selection.
You only need to decide whether you want one that blends in or sticks out.