All about the Upper crust serving bowls!
Food in bowls from the Best Online Gift Store in Kolkata is currently popular, and its popularity has only grown as a result of people's growing obsession with health and well-being. All bowl recipes effectively meet your body's nutritional needs. For individuals who track their caloric consumption, the ingredients used are clear, giving them a more reliable appearance.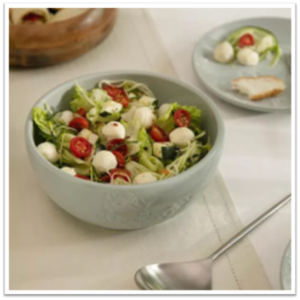 Additionally, bowl meals are nutritious and well-balanced. Some dishes have been chosen especially for the bowl meal category. Use this Upper crust serving bowl from The Gallery Store to try one out for yourself.
Reasons for serving in bowls
Let's start with the most popular reason. Eating from a bowl is convenient and comfortable. For a meal, all that is needed is a bowl and a spoon, eliminating the need for many pieces of cutlery and a huge plate or any Online Dining Accessories from Kolkata Anywhere is a suitable place to sit with a bowl. You can eat in bed without worrying about spills.It regulates the quantity. Sometimes the food tastes so fantastic that you find yourself overindulging and falling far behind on your diet. When using a bowl, you usually only consume what is necessary.The fact that meal bowls are so adaptable is another reason for their popularity. A meal bowl may be the ideal dish for breakfast, lunch, or dinner, depending on the components. The wonderful thing about a bowl of food is that its purpose is determined by its contents; the bowl is only a vessel for cooking and consuming the meal.

You don't have to worry about washing a lot of dishes since you just use one bowl;
You receive all the nutrients you need in one bowl: protein, vegetables, carbohydrates, fibers, and more.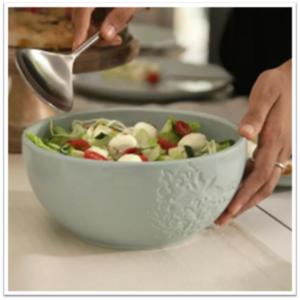 Why don't you give it a try and see how convenient it is? You can start with this lovely Upper crust serving bowl that The Gallery Store has arranged for you.
With this hand-glazed "Upper crust" serving Bowl, you may give your dining experience a luxurious makeover. Make one for yourself by looking up some of your favorite simple bowl meal recipes. Enjoy every morsel in this gorgeous upper-crust dish. You may fill up on the bowl's depth alone. To complete the appearance, match it with other items from the Best Online Gift Store in Kolkata.
In conclusion, the days of only serving soups and cereals in bowls are gone. The utilization has grown and has demonstrated its value at the table. Therefore, you must buy from an Online Gift Store in Kolkata.