What are the different types of plates from the Best Online Gift Store in Kolkata?
You may not give a lot of importance while choosing the right kind of dinnerware- "dinner plates" like this Parchin kari quarter plate.
But having the correct dining accessories may drastically improve the atmosphere of your house.
Your experience dining at home may be improved with a fashionable dining accessory, tableware, or online home decor items from Kolkata.
We'll walk you through the many plate types from the Best Online Gift Store in Kolkata in this blog. Read this blog carefully.
There are many different types of plates and cutlery sets that are frequently used to serve food.
Several of them are listed below:
Dinner Plate
The plate used for main meals is called a dinner plate. Dinner plates generally measure 11 or 12 inches in diameter.
This plate, which normally comes out after the salad is the one that is utilized the most throughout the whole dinner.
A lot of individuals opt to use the same dishes for lunch and dinner.
If you are looking for one, then visit an Online Gift Store In Kolkata.
Plate for appetizers
A dish that may be used to serve an appetizer, such as cheeses or fruits, is called an appetizer plate.
An appetizer plate is a type of plate that comes in a variety of sizes.
This plate's typical characteristic is a curved tip without an indentation.
This plate is just a little larger than the other plates, yet it almost resembles the bread and butter plate.
Dessert Plate
For both formal and casual dinners, dessert bowls are typically utilized.
Craftsmen typically refer to the dessert dish as the lunchtime plate. There are several applications for this plate.
It may be used for sweets, appetizers, and snacks.
Plate for bread and butter
Bread and butter are referred to as BnB. It is customary to serve bread and butter on a BnB plate.
This plate is sometimes referred to as a quarter plate or side plate since it is typically placed next to the fork.
These plates are often circular-like plates. The main distinction is its small size, which measures about 15 cm in diameter.
Soup Plate
Soup dishes have a distinct form from other foods.
This particular sort of plate is designed to hold soup and other watery foods.
The style is appropriate for its principal use as a soup container. The plate's top has an arch that resembles a bowl.
But there are differences in the soup dishes used at formal and informal dinners.
The soup plate is often lower in height during formal dinners.
Visit The Gallery Store for Artistic Dining Accessories in Kolkata.
A short brief of Parchin Kari's Art Style!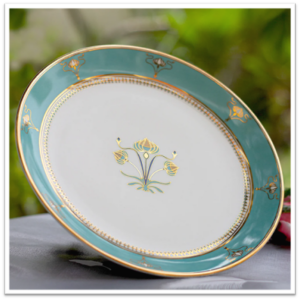 This technique is for inlaying colored marbles or semi-precious stones onto a stone base.
Parchin Kari is frequently done in geometric or floral designs. It is also known as Pacchikari.
The exquisite Pietra Dura work seen in the Taj Mahal served as inspiration for the technique.
It is difficult to discern the incisions since the inlay is so tiny that the inlaid designs appear to have grown out of the marble.
Explore the beautiful collections of Parchin Kari dinnerware set like this Parchin Kari Dinner Plate from The Gallery Store. 
Tips to take care of dining plates
Best practices for maintaining your dining set or plates:
As soon as you're through using the pottery, wash it. In this manner, you may prevent yellow stains.
Always dry-wipe your crockery after washing it. This will prevent water stains from developing on the dinnerware.
Make sure to store your dinnerware in a way that prevents dust from adhering to it.
Avoid piling dishes and plates. On the surface, it could leave scratches.
Delicate glass or other breakable material tableware should not be stored on a high shelf.
.
Conclusion
I hope you enjoyed reading this blog. And now you know the different types of plates.
We've covered everything, from the many styles of plates to the various materials and also about the unique art style like Parchin Kari.
Visit the Best Online Gift Store in Kolkata to begin your dinnerware collection.
At The Gallery Store discover a large selection of tableware to fit your needs, including various styles, materials, and pricing points.