Why prefer Bundi Mahal Condiment Sets instead of Standard Jars?
We enjoy cooking because we love food. And therefore, we want to take pleasure in cooking. So, the word condiment is a favorite word for many people.
Let's explore the condiment world by reading this blog.
And if you want to purchase the above set of 2 Bundi Mahal Condiment sets then you must visit KCC Gallery Store.
How do I define a Condiment Set?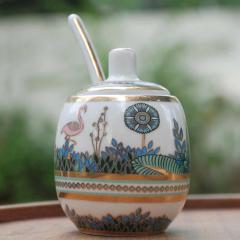 While some experts define a condiment as a combination of herbs, spices, salt, and pepper, another group of experts claims that a condiment is a compound food component that is added while serving cooked food, such as ketchup sauce. Therefore, it is better to visit the Best Online Gift Store in Kolkata Bundi before purchasing a Bundi Mahal Condiment set according your convenience.
There are many different kinds of condiments on the market to enhance your eating experience.
For instance, you may also look for Online Home Decor Items in Kolkata from KCC Gallery Store.
Condiment sets include a tray or rack with matching jars for storing spices, herbs, sauces, and flavored oils.
Why is it essential to have a Condiment Set from an Online Gift Shop in Kolkata for your kitchen?
Decorative: 
A condiment set is an excellent addition to your kitchen and eating area and may be used for quick seasoning and flavor improvement.
Condiments may be arranged in pairs or odd-even numbers on racks, trays, and rotating trays. Both the materials and the shapes and sizes are variable.
Easy to search:
We frequently require additional spices, salt, or sauces while we are eating. If you have a convenient condiment set, you might not need to quickly search your kitchen cupboards to satisfy the demand.
It is efficient and convenient, improving the quality of your dining experience. There is no need to worry about handling spices that leak since even the sizes and forms are practical.
In general, we keep a lot of spices, herbs, and sauces in regular jars. However, because these jars are so large, they cannot be placed on a dinner table. The condiment set is a remedy as a result.
They preserve the freshness and tidiness of your condiments. Jars may be arranged in vast numbers on the table due to their size.
Convenience: 
Condiment sets come in convenient sizes, so everything you use will be in small amounts.
As a result, the likelihood of excessive usage decreases. Your cuisine becomes both nutritious and delicious at the same time when you have basil, dried oregano, and parsley on hand and use them as condiments.
Making homemade tahini or other fusion dips, as well as storing herbs and condiments in the condiment set, makes them desirable to people.
Tips for purchasing a good Condiment Set from Online Gift Shopping Sites?
Since there are so many different kinds of spices and condiments available worldwide, the market also offers a broad variety of condiment sets.
According to the characteristics of the condiments, the container design changes.
Let's briefly review how to purchase a condiment set for your kitchen needs:
• Decide which condiments you want to retain first. Select the appropriate sort of container based on the shape and density of the ingredients.
• After that, choose the material appropriately. It is significant. You need condiments that are both fresh and healthy and have the proper quantity of food value.
• Depending on storage or serving, the container's size changes. It makes sense that they would be compact and useful if you just needed them for that purpose; otherwise, they would be appropriate for the quantity of the goods.
• Decide if you want to position them over the counter, in the kitchen, or at a dining table.
Conclusion
By going through this blog, we can sum up and say that a condiment set is a group of coordinating containers with a tray, rack, and occasionally a handle.
While eating, you can easily access the ingredients with a fancy condiment set from the Best Online Gift Store in Kolkata at your table.
You can always prepare excellent, nutritious cuisine. The most crucial step is to pick the appropriate set type.
Avoid selecting a jar or container at random. While choosing the condiment set from any Online Gift Store in Kolkata, quality is also essential.
Therefore, elevate your kitchen by furnishing it with high-quality condiment sets from KCC Gallery Store.