A Touch of Elegance: Glass Roti Box with Wooden Lid
In the world of kitchen necessities, style and aesthetics are just as important as functionality. A glass roti box with a wooden lid's beauty, and usefulness will appeal to you if you respect both functionality and elegance in your kitchen, just like this Meissa Glass Roti Box with Wooden Lid.
This lovely fusion of materials elevates your eating experience by fusing the traditional with the contemporary.
In this blog, we'll discuss the advantages of having a glass roti box with a wooden lid in your kitchen, as well as some advice on how to choose the best one for your house from the online gift store in Kolkata.
The Grace of Wood and Glass
Glass and wood are classic materials that have been utilized for ages in a variety of cooking and home décor applications. They provide a special fusion of elegance, toughness, and unadulterated beauty.
Elegant: You may display your culinary masterpieces in the roti box's glass body. Your dining table gains a touch of class as a result, elevating every meal into a memorable event.
Warmth: The wooden lid's warmth and rustic appeal complement the transparency of the glass. Glass and wood together produce a harmonious contrast that is both modern and rustic.
Advantages of using a glass roti box with a wooden lid from an online gift store in Kolkata
The advantages of having a glass roti box with a wooden cover will now be discussed.
Freshness Retention: The hardwood lid's airtight seal guarantees that your rotis or other flatbreads stay soft and fresh for a long time. No more worries about rotis that are stale or dry.
Simple Identification: Without opening the box, you can easily determine the food through the transparent glass. This not only makes organizing your kitchen easier, but it is also handy.
Versatility: Despite being typically used to keep rotis, these boxes may also be used to hold cookies, snacks, or even non-food things like jewellery or art supplies.
Glass is simple to clean and doesn't harbor scents or stains. Your rotisserie box will appear brand new with only a little washing.
Glass is a recyclable material that is sustainable and can be recycled endlessly. You're making a green decision for your kitchen by selecting a glass roti box.
Functional Advantages
Hygienic and Easy to Clean: Glass is non-porous, which means it doesn't collect smells or stains, making it hygienic and simple to clean. It is a sanitary option for food storage because it is very simple to clean. The glass base may be simply cleaned with soap and water, and the hardwood lid can be cleaned with a moist cloth.
Eco-Friendly: It's important to note that the Glass Roti Box is an eco-friendly option as we become more aware of our influence on the environment. It lessens the need for single-use plastic or paper packaging, helping to save the environment. Therefore, only visit the KCC Gallery Store for online dining accessories in Kolkata.
Choosing the Perfect Glass Roti Box
Here are some things to take into account while looking for a glass roti box with a wooden lid: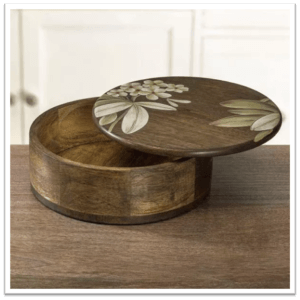 Size: Based on your family's demands, choose the appropriate size. Larger boxes are suited for larger homes, while smaller ones are suitable for nuclear families.
Cover Quality: Make sure that the hardwood lid is well-made, smooth, and fits snugly.
Design: Select a layout that accentuates the attractiveness of your kitchen. Glass roti boxes come in a range of designs, from simple to elaborate. Have a look at this Frangipani wooden roti box from the KCC Gallery Store.
Cleaning Prompts: Search for boxes with detachable lids or effortlessly clean styles. Maintenance is simple with the detachable lid.
Final Thoughts
In addition to serving as a culinary item, a glass roti box with a wooden lid also beautifies and enhances the interior of your house. It's a multipurpose item that's well worth the money because it can keep your flatbreads fresh, display your culinary talents, and help make your kitchen more environmentally friendly.
With this sophisticated pairing of glass and wood, you can elevate your dining experience and make mealtimes even more enjoyable.
Then what are you waiting for? With a glass roti box having a wooden lid from the Best Online Gift Store in Kolkata, embrace the combination of traditional and contemporary and improve the appearance of your kitchen right now.