Why are beautiful bathroom accessories so important nowadays?
Do you think that bathroom accessories have a luxurious look? 
Well, according to me, more than being luxurious, it is a necessity for every bathroom, like this set of three Grey Blossom hand-painted bath accessories.
But how? 
Previously the bathroom was just a simple room with all its bathroom equipment. 
But with the changing times, this room has evolved into a significant portion of the home in terms of style and décor with the Best Online Gift Store in Kolkata.
This blog will let you know the benefits of keeping bathroom accessories, so stay tuned till the end.
Modernizing bathroom accessories has been considered to produce a seductive impression on visitors; a well-designed and stylish bathroom may offer the house a fascinating appearance.
The size of the bathroom should be the first factor taken into account when creating exceptional decorating since you can then estimate the amount of furniture and accessories needed in the bathroom daily. Always use compact designs to give the bathroom a roomy and modern appearance.
You can make your bathroom a completely functional and stylish area by purchasing bathroom supplies from

an online gift shop in Kolkata.

One of the most frequently used items that should never be lacking in a bathroom is a mirror. It is typically put in the laundry so that people can see it when brushing, combing, shaving, or taking care of other necessities.
If the bathroom is tiny, a huge mirror is the best option since it adds depth and light, making the space appear larger. The style prevalent in the area has a direct impact on the choice of mirror form. However, mirrors without frames are the most popular since they provide a much more basic look that manages to blend in with any other decorations in the room.

With the help of online bathroom accessories, you can give your bathroom the color or tone you've always wanted. The colors in the bathroom express the home's occupants' energy. There is a great variety of colors and finishes on the market now that are both attractive and useful for any bathroom.
Final Thoughts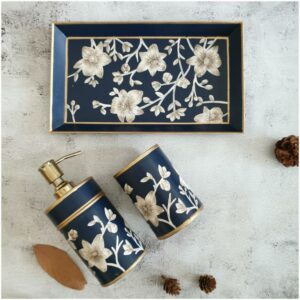 Buy the appropriate bathroom accessories, like this set of 3 Blooming Hibiscus Hand-Painted Bath Accessories, that will help you avoid clutter and make your bathroom look beautiful.
The majority of bathroom accessories from an online gift store in Kolkata come in gorgeous designs and finishes, and they are easy to install.
So, what are you waiting for? 
Just explore the amazing collection of bathroom accessories at the KCC Gallery Store.