Drink with Elegance from The Gallery Store's Drinkware
Choosing the right one is essential. It not only enhances your table presentation but also adds elegance to your style and turns an ordinary meal into a charming one. You cannot take tea from a glass. These are bone china tea cups specially designed for this purpose. If you don't have them, you can get them from The Gallery Store. Aesthetics aside, special glasses are shaped to complement the drink it is supposed to serve.
You must have them of all kinds in your collection from the Artistic Dining Accessories of Kolkata. The fittest will promote refreshment through its presentation. Plus, using the right glass will appeal to your guests more. It will enhance your hospitality and increase the overall decor.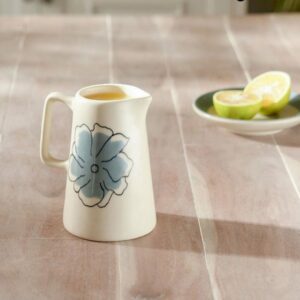 Blue Meadow Ceramic Breakfast Jug
Impress your guests by presenting your drinks in our sleek and elegant Blue Meadow Ceramic Breakfast Jug. With nice color, it will beautify the look of your drinks and dining table. Visit the Online Gift Store in Kolkata. Suitable for any situation, from formal events to everyday home use, this timeless dinnerware set adds the ambiance of a great dining experience.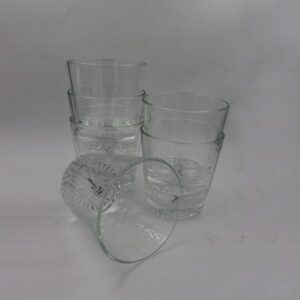 These glasses have a slim cylindrical shape that is easy to hold, while their lightweight construction means that the glass does not break but is comfortable to hold for extended periods. Have a look at the Artistic Home Decor of Kolkata. The straight heat-resistant glass cup is made of heat-resistant borosilicate glass, resistant to temperature differences. Ideal for indoor dining and outdoor parties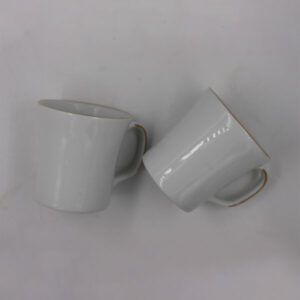 Start your day with your favorite cup of tea/coffee. If you are looking for the best and most unique tea cups for your coffee, evening tea, bed tea, black tea, and green tea, these cups by the Best Gifts Shops Online are the best option for you. It has a good grip when sipping tea, coffee, milk, soup, other beverages, etc.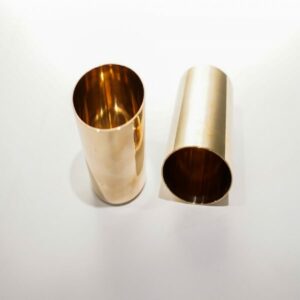 This stunning set of glasses from the Homeware Product Supplies of Kolkata will be an exclusive addition to your tableware. The set contains two Kansa glasses. This Kansa glass gives an authentic look and feels as the bowl is quite heavy and of high quality.
Note: Avoid contact with citric acid or cleaning powder.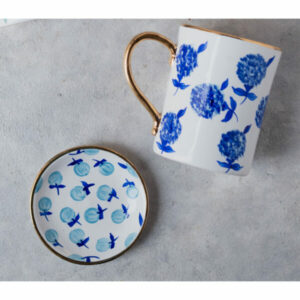 Marigold hand-painted coffee mug with coaster
These cups are ideal for drinking tea and coffee with the family. Just go for the Luxury Homeware Products of Kolkata. It can be used as a milk cup and can be your daily drinking partner.