Get on this Fleur D or Platter Set before they go out of stock
Wood has its elegance, and even a single piece of wood, when crafted and designed, becomes more beautiful, just like the Fleur D' or platter set, from The Gallery Store, which is the best online gift store in Kolkata. Just have a look at these beautifully designed Fleur D' or platter sets. Let's have an example of a flower: If you look closer, each crease and vein in the flower draws attention to how special it is. In the same way, mango wood has the same beauty engraved into it in a way that makes it durable, just like this Fleur D'Or Mango Platter.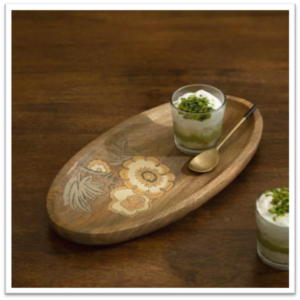 Wooden serving trays or platters are the traditional serving element because of their simple form and chic carved handles. Unexpectedly, the matte surface and chic appearance stay in style for a very long time. The Gallery Store, an online gift store in Kolkata, provides a large selection of wooden platters like this large Fleur D or Platter, and trays that might make your hospitality more beautiful and elegant.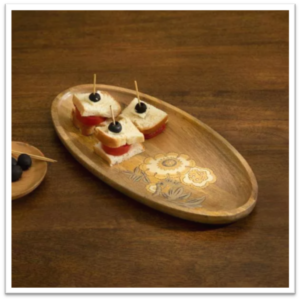 Serve some delicious and beautifully presented appetizers on this lovely small Fleur D or Platter to welcome your family and friends. These are handcrafted, environmentally friendly, and motivated by the flowers that were painted on wood. We all love flowers just after the rainy season and also casually. It's ideal for getting together over some hearty cuisine and perhaps savoring a fancy cheese or dessert tray.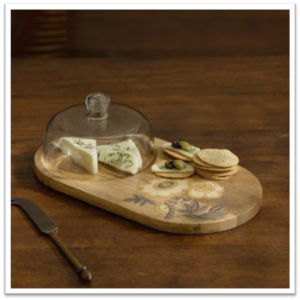 Your kitchen will seem more elegant and charming with wooden platters and trays. Spices, tea bags, oils, and other regularly used things can be stored on wooden trays. Like this, it helps you save a lot of time by just getting all your things into the kitchen organizers. To keep your kitchen bright and colorful, you can also use it as a decorative feature to showcase personal items such as frames, tiny pots, and flowers with this Fleur D or Platter with Glass Cloche by the Best Online Gift Store in Kolkata. Fleur D or platters will seamlessly blend into the design of your kitchen and house.
We hope that this blog has helped you gain some knowledge about Fleur D or Platter Set at the Best Online Gift Store in Kolkata. So, now grab all the items before they go out of stock.